DUI Checkpoint to be held in Morris Twp. This Evening
Arrested for DWI in Morris Twp.? Cases Prosecuted in Madison Joint Municipal Court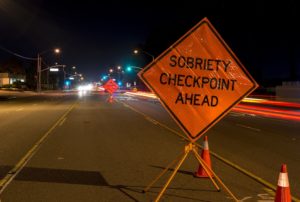 If you are on the roads tonight in Morris Township you should keep an eye out for a DWI checkpoint being conducted by the Morris Township police department. The Morris Township police are conducting a sobriety checkpoint tonightat 9 p.m. at an undisclosed location in Morris Township. Police will be stopping vehicles to determine if any drivers are impaired based on the consumption of alcohol or drugs. DWI checkpoints are legal in New Jersey under State v. Moskal as long as certain criteria are met.
The police must show historical data that there are a number of DWI arrests in that area which justifies the need to conduct a DWI checkpoint. They also must provide notice to the public of the checkpoint being conducted. Tonight, they posted notice of the DWI checkpoint in the newspaper and online at the patch.com. In addition, there must be proper supervision by law enforcement. This typically means a sergeant, lieutenant or captain must be present to oversee the operation and to assist in any arrests, prosecutions. Also, the police officers must conduct the stops at random without using any bias such as race, gender, type of vehicle, etc. They typically do that by choosing every 3rd car for example for the random stop.
If you are stopped at a DWI checkpoint you should comply with the directions of law enforcement and provide your driving credentials (license, registration, insurance). If police suspect that you have been drinking, they will ask you to get out of the vehicle and perform field sobriety tests.
Typical signs of impairment include odor of alcohol in the vehicle or on your breath, slow or stuttered speech, failure to answer their questions properly, or open containers of alcohol in the motor vehicle. If you are asked to get out of the vehicle to perform field sobriety tests, you should do so.
Otherwise, they will place you under arrest for DWI and take you to the station to perform a breath test. The typical field sobriety tests that are conducted are the horizontal gaze nystagmus test (known as the "HGN"), the "walk and turn test", and the "one leg stand test". These are standardized tests that must be demonstrated for you and the proper instructions must be given by police in order for the tests to be valid.
If you fail the field sobriety tests, you will be arrested and taken to the Morris Township police station to provide samples of your breath on the Alcotest 7110 breath testing machine.
Charged with DWI in Morris Twp? Contact Us Now for Assistance
If you have been arrested for DWI in Morris Township and you need an attorney, we can help. These cases are prosecuted at the Madison Joint Municipal Court where Mr. Tormey has literally handled hundreds of cases over the years with great results. This experience and expertise allows him to fight these charges for you in court. Contact us now for a free initial consultation.